Kids Stuff >Shark Attack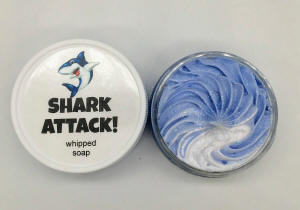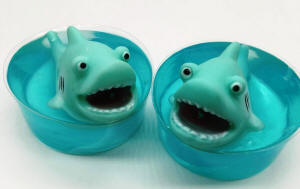 Don't be afraid to go into the water...
with our new
Shark Attack!
Our Shark Attack whipped face and body soap is perfect when you need a little gentle cleansing. Also great as a shaving soap for the adults in your life! Carefully formulated and whipped to perfection; it is a thick whipped soap that you can just scoop out and use! Our whipped soap is paraben free!
Choose from our 8oz. Round Powell Jar or in a mini 2oz. low rise jar. Great summer scent of Bubble Gum to make washing and bathtime fun.
Just add an unscented shark attack squirt soap and your bathroom is all set to go!
As with all our products they are handcrafted in small batches to assure quality craftsmanship.