Seasonal Soaps > Irish Crème Bubble Bath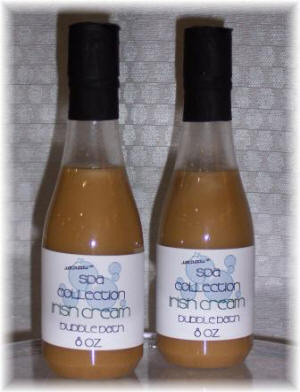 Relax as you enjoy the fragrance of your favorite Irish Liquor! Each plastic liquor bottle is filled with 8 oz. of our famous highly fragranced Irish Crème bubble wash. Simply add a bit to your bath, sit back and relax while the bubbles take you to another world or add a bit to a washcloth or mesh sponge and enjoy as a body wash.
As with all of our handcrafted creations – they are made in small batches. These bubble washes can be used as a bubble bath or shower gel! They make a great addition to any St. Patrick's day themed party, or just a unique gift for someone special.
We create our products every day so the turnaround time is a fast 1-3 days.
Want to send them as a gift? Just include the recipient's name and address along with your sentiment and we will be happy to send them for you directly! ALL products created at Just Bubbly are Leaping Bunny CERTIFIED CRUELTY FREE!
For more St. Patrick's Day Irish creations check our entire line here.