Spa Collection >Body Butter Lotion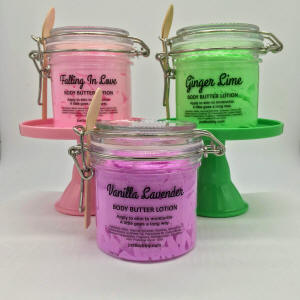 Our body butter lotion is just what you need during these constant hand washing times!
Carefully formulated it is a thick body cream to moisturize your skin day or night .
Our body butter lotion is natural and will soak into the skin and keep your skin hydrated all day but not be greasy. It contains Sunflower Oil which is known to have healing properties. Sunflower has since been established to be rich in Vitamin E, helping moisturize and regenerate skin.
Available in our many of your favorite fragrances listed below.
Choose from our beautiful 8oz. Bail Jar, our 8oz. Oval Powell Jar or in a 2oz. low rise jar.
Check out our other matching products including our Loofa Soap and Champagne Bubble Bath, Relaxing Bath Salts and Whipped Sugar Scrubs.
As with all our products they are handcrafted in small batches to assure quality craftsmanship.