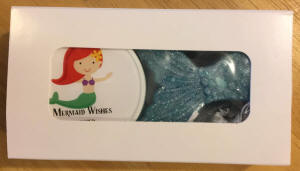 Our Mermaid Wishes Gift Set is sure to make that special someone eager to take a bath! This two piece set includes a two ounce jar of scented rainbow whipped soap and a 3 ounce scented glitter blue mermaid tale. Mermaid Wishes scent will remind you of endless fields of swaying daisies in the breeze with a touch of sunkissed lemon and warm amber.
Mermaid Tail Soap is individually shrink sealed and sits upon a nest of paper crinkle along side of the scented rainbow whipped soap. The set is gift boxed in a two piece slide open window top box for a peek at what's inside!
Need it shipped direct to that special someone? Not a problem! Just be sure to include the recipients name and address at checkout.